Stars + Infinite Darkness is made up of hundreds of young emerging designers, and every week, we talk to one of our designers to reveal how these designers got started and what inspires them... perhaps it will inspire you.
This week, we go to Brooklyn to interview the designer of CHANDI, Chandi Lancaster.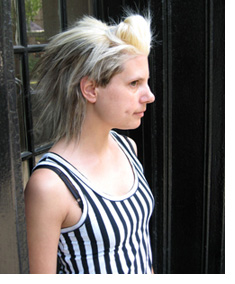 Where are you from? How old are you? Where do you live now?
I'm from St. Mary's City, Maryland, 15 miles north of Point Lookout "The Most Haunted Lighthouse in America." I'm 31 now living in Brooklyn, NY.
Did you study fashion?
I studied painting at Pratt Institute.
Did you work for another designer?
Never! I worked for a bunch of artists and continue to collaborate with them. I've found that working for yourself ruins you for working for other people.
When, how, and why did you start your collection?
I started my collection the summer of 1996, it was the last summer before my last semester at Pratt. I was really concerned with identity and individuality, which inspired me to create my first collection of dresses silk screened with chromosomes. I had become concerned with the lack of individuality resulting from the mass produced brands. I think shortly after they cloned a sheep. Does cloning a sheep seem redundant to anyone else?
Who do you see as "your" customer?
I know a lot of the people who wear my stuff and it inspired me to start a "friend's" page on my website that includes photos of them in my stuff with links to their websites so you can see what they do. They're artists, musicians, designers, djs, actors, friends and animal lovers. They're from all over the US, France, London, Germany, Greece, Spain, Japan, Portugal, Israel, Australia..
What is the inspiration and idea behind your latest collection?
I designed the current t-shirt collection and the Ready To Wear collection: 2000NEVER in Berlin last summer. My line was turning 10 years old and for several years I had been traveling a lot collaborating with artists. I wanted to apply that lifestyle to my own business, to make it more mobile, change my environment and draw inspiration from it.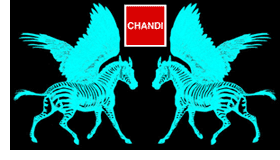 Do you have another job besides making your collection?
I also work as a superintendent managing 16 artist's workspaces, one of which is my studio.
How many stores are you currently selling at? Where are they located?
10 + 2 online= 12... NY, LA, Berlin, Tokyo, Olympia, Portland, Phoenix, and Online...
What are your plans for your company?
To continue to grow like an underground band: through word of mouth, friends and fans.
Where are you headed next?
Warsaw, Israel, Berlin.